Memberships

Thank you for your interest in aMaizin! memberships.
The average member visits for the year are often from 20 to over 100, so if you visit on a regular basis this can represent considerable savings!
There are some great benefits to being a member, and if you use the membership just once a month you are already saving money! We have a super range of free additional activities and we also offer events and workshops completely free for members!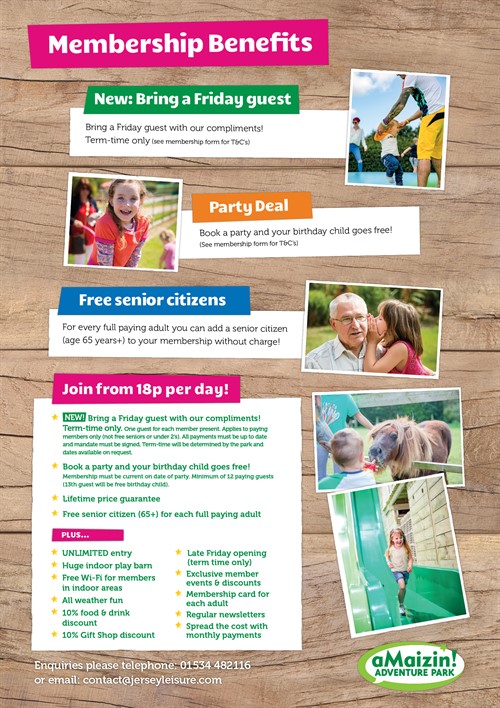 The membership form is available by PDF below or we can supply this by post or email. 
If you have a current membership and wish to review the terms and conditions, please click on the link below. 
Please note we close on Monday from 30th September to Spring (excluding school holidays) and we are closed from Sunday 22nd December - Wednesday 02nd January.
By taking out an aMaizin! Adventure Park Membership you accept that the legitimate collection and processing of a range of personal data as outlined is necessary so that we can properly perform our contract with you. Further details are available in our privacy policy.
If you supply Personal Data on behalf of someone else, you confirm that the other person has appointed you to act on their behalf and has given you consent to do so.
Protecting Your Privacy
aMaizin! Adventure Park is committed to protecting your privacy.
To this end, we will:
* only use the personal data you provide for legitimate purposes and ensure all data processing is necessary for the performance of our contract with you
* only contact you in relation to service information including, but not limited to, membership benefits, expiry/renewal notifications and changes to Terms and Conditions
* contact you with additional promotional communication by email unless you have opted not to receive our newsletters
* only share relevant personal information with third parties where it is necessary for the performance of our services and where that organisation complies with current data protection regulations for handling personal data
Further details of our personal data processing is outlined in the Membership Privacy Policy at the foot of this page.