Maize Maze

Closes Sunday 05th September - don't miss the fun!
The 2021 maze will be in a different format as we have not been able to get the GPS team to the island for a complex pattern.
Another all-inclusive activity at the park, the maze is open for 8 weeks only and this year's theme is will be released shortly. 
If you would like the same experience with less of the exertion, or if you have younger children, you can choose to opt for our mini maze. The mini maze has less clues and a shorter route.
If you like to see where you're going (this won't make it any easier to find the clues!) then visit us at the beginning of July when the maze is shorter. There is an added bonus in the first week of opening, you get a little gift for completing the scavenger hunt, but there is a catch! You need to go dustbin diving!
If you wish to have the full experience, leave it until nearer the end of July when the corn is fully grown.
Plotted by GPS, planted in May and open in July this crop then goes to a neighbouring farmer after Halloween for winter feed for his Jersey cows!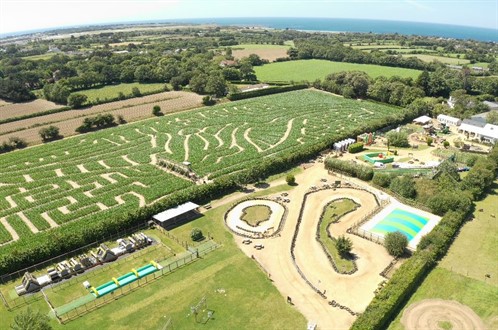 2018 Maze above